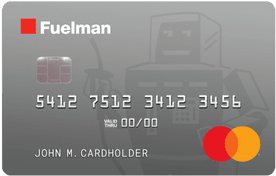 Apply For Instant Decision
Fuelman Mastercard®: Regular Package
Card Details & Benefits
$3.99/month per card (First 3 months waived)*
Set controls to determine when, where, and how often cards can be used**
Use everywhere Mastercard is accepted, including over 160,000 fueling locations
Detailed fuel and tax reporting
Centralized maintenance payments and tracking
Universal maintenance acceptance***
Rewards: Earn 1 point per eligible gallon
Save up to 6¢ per gallon on fuel ****
About The Fuelman Mastercard®
About The Fuelman Mastercard®
Businesses like yours need to manage fuel expenses, but can't be tied down to fueling only in a limited network. The Fuelman Mastercard® lets you control fuel spending everywhere Mastercard if accepted so you can keep your business running smoothly.
Convenience of the Mastercard Network
Never know when your drivers will need to stop for fuel? Have the flexibility of fueling anywhere Mastercard is accepted.
Controls
Use customizable controls to help prevent employee misuse
Determine when, where, and how often cards can be used**
Limit spend by location, date, time of day, and dollar amount
Restrict usage to fueling locations
Rebates and Rewards
A fuel card with a loyalty program? The Fuelman Mastercard® rewards businesses with points for every eligible gallon pumped. That's on top of up to 6¢ per gallon in rebates.****
**Merchants are assigned a merchant category code by Mastercard and such merchant category codes are subject to change. Merchants are categorized by Mastercard as fuel, maintenance, or a different merchant category code based on the type of goods or services provided. Ability to open card(s) up for purchases at locations other than fuel and maintenance retailers is based on credit worthiness and may be restricted for certain customers.
***Use on maintenance everywhere Mastercard is accepted.
****Receive an up to 3 cents per gallon rebate with participating merchants within the Retail Savings Network (http://www.fleetcor.com/RSN) and up to 3 cents per gallon in volume rebates. Volume rebates are $0.005 for first 1,999 gallons; $0.01 for 2,000 – 4,999 gallons; $0.015 for 5,000 – 9,999 gallons; $0.02 for 10,000 – 19,999 gallons; $0.025 for 20,000 – 29,999 gallons; and $0.03 for 30,000+ gallons. Purchases must be made with the Fuelman Mastercard® and the account must be in good standing. Not valid on purchases at Comdata Direct Network truck-stops, aviation, bulk fuel, propane or natural gas purchases. Volume rebates are based on the number of gallons purchased monthly and will be calculated on the gallons pumped at Level 3 sites. Unleaded and diesel grade fuels are included. The Retail Savings Network is a select group of fuel locations that offer cardholders additional savings. Rebate offer valid for first 12 months. 
See Feature Package Benefits and Rules for complete details at https://www.fleetcor.com/terms/mastercard-saver. Fees may apply in some cases, such as for optional services, late payments and/or credit risk. Fuelman Mastercard® is issued by Regions Bank®, pursuant to a license by Mastercard International Incorporated. Mastercard and the Mastercard Brand Mark are registered trademarks of Mastercard International Incorporated. Fuelman® is a registered trademark of FLEETCOR Technologies Operating Company, LLC.© 2020 FLEETCOR, P.O. Box 1239, Covington, LA, 70434.