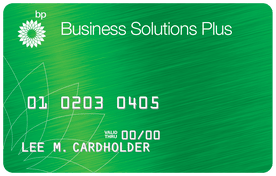 Apply For Instant Decision
BP Business Solutions Fuel Plus Card
Card Details & Benefits
Save up to 6¢ per gallon on fuel purchases at thousands of bp or Amoco branded locations*
Set card controls and use limits by day, week, or month 
Require driver ID and odometer readings for every purchase
Deactivate lost or stolen cards online anytime 
About the BP Business Solutions Fuel Plus Card
About the BP Business Solutions Fuel Plus Card
Get access to high-quality fuels at thousands of BP or Amoco locations, while providing control over how your fleet cards can be used.
Online Control & Visibility
Secure 24/7 online access to account information, reports and statements
Prevent Misuse
Require driver ID and odometer readings for purchase
Create customized profiles and spending guidelines 
Convenience
Use across the U.S. at thousands of BP or Amoco fuel locations
*Volume rebates for gasoline are $0.035 for 300 - 2,999 gallons; $0.04 for 3,000 - 7,999 gallons; $0.05 for 8,000 - 9,999 gallons; and $0.06 for 10,000+ gallons. Volume rebates for diesel are $0.035 for 300 - 2,999 gallons. Rebates may not be allowed where prohibited by law and apply only to fuel purchases made at participating bp or Amoco branded locations in the U.S. Not valid on off-road diesel, aviation, bulk fuel, propane or natural gas purchases. Rebates are subject to forfeiture if account is not in good standing. Rebates will be reflected on your billing statement in the form of a statement credit. Rebates are subject to change at any time without notice.
Program terms and conditions apply. Visit www.fleetcor.com/terms/bp-business-solutions for details. Fees may apply in some cases, such as for optional services, late payments and/or credit risk.