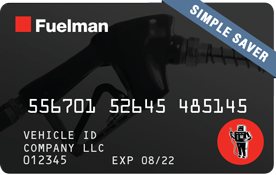 Apply For Instant Decision
Fuelman Fleet Card Simple Saver Offer: Plus Package

Card Details and Benefits
$7.99/month per card (First 3 months waived)*
Customizable dashboards and analytics
Detailed fuel and tax reporting
Centralized maintenance tracking and payments

Alerts for potentially fraudulent transactions

Business Identity Protection powered by Experian
Fraud loss coverage, up to $25k per year
Late payment forgiveness, up to 1x per year
"Skip-the-line" priority customer service
24/7 Roadside Assistance
Access to ASE Blue Seal-certified technician advisory group
$50 Annual Loyalty Bonus

Rewards: Earn 1 point per eligible gallon
Save 10¢ on diesel and unleaded at Pilot, Speedway, Kwik Trip, TA, TA Express, & Petro and 2¢ on diesel and unleaded at other Fuelman locations**
About the Fuelman Fleet Card Simple Saver
About the Fuelman Fleet Card Simple Saver
With Simple Saver, get the Fuelman® fuel card with enhanced rebates at preferred truck stops nationwide, plus a flat rebate across the full Fuelman Network.** The Simple Saver offer is a favorite of Long-haul truckers and businesses in Transport & Distribution, Logistics, and Shuttles & Buses. In addition, you get:
Customizable controls
 Use customizable controls to help prevent employee misuse
Determine when, where and how often cards can be used

Limit spend by location, date, time of day and dollar amount
Restrict usage to fueling locations
Convenient strong local network of fuel locations
Pilot, Speedway, and Kwik Trip, the Fuelman® Network has over 50,000 locations throughout the U.S., with participation from a wide array of preferred brands like Exxon, Chevron, Walmart, Circle K, and QuikTrip.** 
Rebates and rewards
A fuel card with a loyalty program? The Fuelman® Simple Saver program rewards businesses points for every eligible gallon pumped. That's on top of 10¢ per gallon at Pilot, Speedway, and Kwik Trip, and 2¢ throughout the rest of the Fuelman® Network.**
Not a heavy truck stop user? Looking for better rebates at preferred brands? Take a look at our Fuelman® Deep Saver offer.

Disclaimer
** Fuelman sites can be found at www.fuelman.com/sitelocator. Rebates are subject to forfeiture if account is not in good standing. Rebate offer valid for first 12 months. Transactions at ARCO are subject to pricing surcharge and are not eligible for any rebate. 
Program Terms and Conditions apply. Visit www.fleetcor.com/terms/fuelman-saver for details. Fees may apply in some cases, such as for optional services, late payments and/or credit risk. Fuelman® is a registered trademark of FLEETCOR Technologies Operating Company, LLC. © 2020 FLEETCOR, P.O. Box 1239, Covington, LA, 70434.